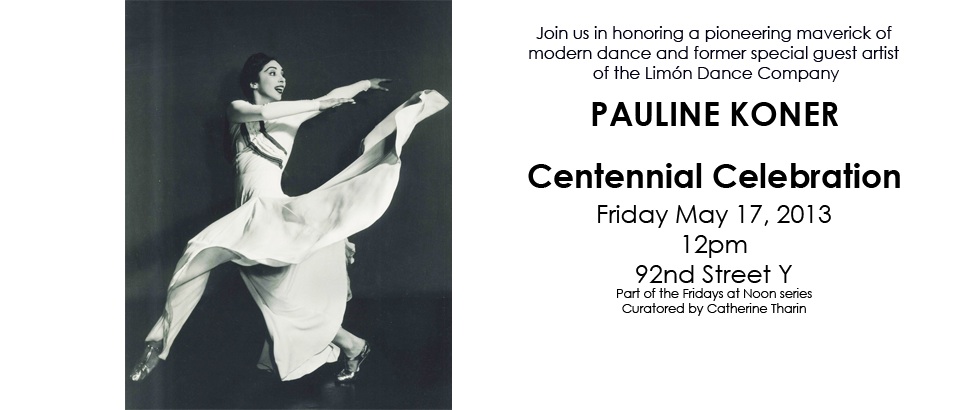 PAULINE KONER CENTENNIAL CELEBRATION
Free Event Includes Performances,
Film Presentation and Guest Speakers
Friday, May 17, 12:00 pm, 92nd Street Y Harkness Dance Center:
Fridays at Noon, curated by Catherine Tharin
NEW YORK, NY: (date)—Artist, visionary, dancer and choreographer Pauline Koner was one of the pioneering mavericks of modern dance. She was the first American dancer to go on tour in the Soviet Union. She danced with Doris Humphrey and José Limón before forming her own company. She was open to opportunities beyond the concert stage, choreographing a Holiday on Ice review and creating innovative dances that explored the impact of the camera for CBS Television. She was also a member of the founding faculty of the North Carolina School of the Arts.
Pauline Koner set the standard for solo dance artists of the mid-to-late 20th century.  Recently, contemporary audiences have lacked opportunities to see her work. Evelyn Shepard and David K. Manion remedy that with a rare chance to see some of Koner's seminal dances and learn about her legacy. On Friday, May 17, they will present a special centennial celebration of Koner during Fridays at Noon, the 92nd Street Y Harkness Dance Center's bi-weekly, free dance series.
While the performance proper begins at noon, video of Koner will be shown on a monitor in the Harkness Dance Center lobby starting at 11 am. Shepard and Manion are presenting three Koner works: The Shining Dark, 1956, inspired by the life of Helen Keller, performed here by the 360 Dance Company; Poeme, 1962, a luminous and tender duet danced by Ryoko Kudo and Pablo Francisco Ruvalcaba of the José Limón Dance Company; and Concertino, 1955, about a woman and her ladies-in-waiting at a Renaissance court, performed by the Dancefusion Company. All three works have been reconstructed and staged by Evelyn Shepard.  Distinguished guest speakers include Charles Reinhart, former director of the American Dance Festival, and C.C. Conner, Managing Director Emeritus of Houston Ballet, among others.
This event is under the umbrella of Dance Conduit, Inc., and operates with the cooperation of the The José Limón Dance Foundation. Fridays at Noon, curated by Catherine Tharin, is a program of the 92nd Street Y Harkness Dance Center.
Fridays at Noon: Celebration of Pauline Koner
Friday, May 17, 12 pm
92nd Street Y Harkness Dance Center – 1395 Lexington Ave, New York, NY
Admission is free, but tickets are required. Please pick up a ticket at the 92Y box office in the main lobby. Contributions are welcome.
Press inquiries: Sarah Morton, smorton@92Y.org or 212.415.5435.
Photo credit: Memorium by Gerda Peterich