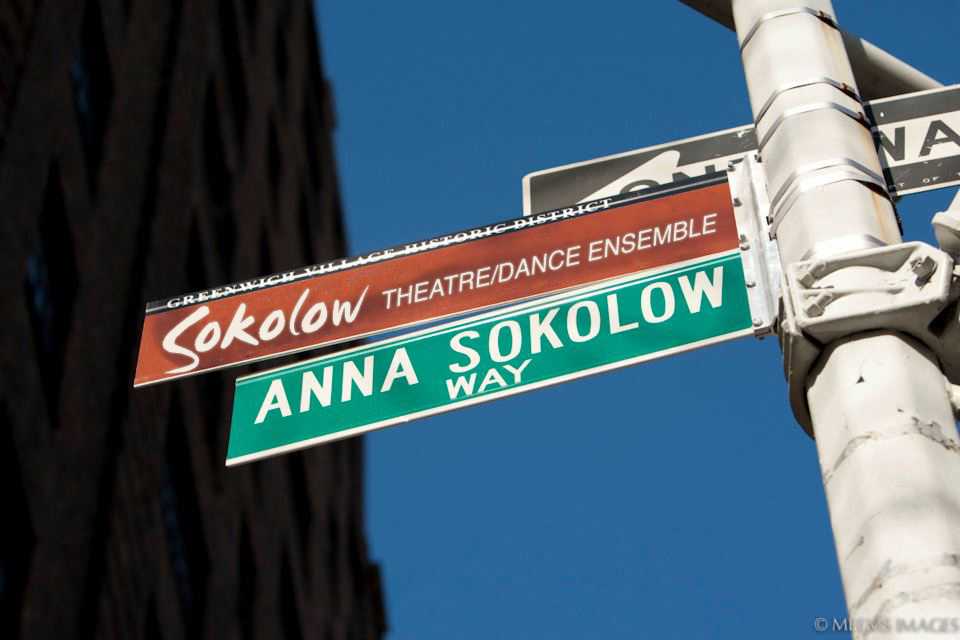 The upcoming season of Sokolow Theatre/Dance Ensemble will present a dance/play about Ms. Sokolow (1910-2000) entitled  "Anna Sokolow Way" on December 4-8, 2013 at the Theater at the 14th Street Y.
This special evening will contain rare video, live performance, and narrative script covering Ms. Sokolow's personal struggles, her approach to choreography over the 20th Century, and the invention of Theater Dance.  This anthology features highlights from many of her dances (including Dreams, Rooms, Diaries of Franz Kafka, Opus 65, Magritte, and other works), in a collaborative season with the highly acclaimed FROM THE HORSE'S MOUTH featuring dancers, actors, critics, musicians, from her 60 year career sharing their experiences.
Directed by Jim May, Sokolow Ensemble's founder, artistic director, former soloist (Bessie Award) and performed by a select group of highly skilled artists dedicated to the preservation of Anna Sokolow's technique of voice, theater, and dance.  Teenage students from Ellen Robbin's school will also perform on the program.  This program is partially funded by The Pierre and Tana Matisse Foundation.
Discover how Anna Sokolow has influenced theater, music, dance around the world, over many generations, demonstrating how art can influence ones inner struggles and guide society.
Wednesday, Dec. 4th – SOKOLOW ENSEMBLE (dance/play) – 8 pm
Thursday, Dec. 5th – FROM THE HORSE'S MOUTH – 8 pm
Friday, Dec. 6th – Gala Evening:  FROM THE HORSE'S MOUTH  and SOKOLOW ENSEMBLE (dance/play) – 7:30 pm

Sat. Dec. 7th Mat. – FROM THE HORSE'S MOUTH – 3 pm
Sat. Dec 7th Eve. – SOKOLOW ENSEMBLE (dance/play) – 8 pm
Sun. Dec 8th Mat. –  SOKOLOW ENSEMBLE (dance/play) – 3 pm
Sun. Dec 8th Eve. – FROM THE HORSE'S MOUTH – 7:30 pm
THE THEATER at the 14th STREET Y
344 E. 14th Street – between 1st – 2nd Ave
New York, NY 10013
Tickets: $30 Gen. Adm., $18 Student/Seniors, $25 Y Members
Dec 6 only- $100 Gala (Gala tickets include performance + reception)
Reservations: 1-800-838-3006 or www.BrownPaperTickets.com


PLEASE HELP THE SOKOLOW ENSEMBLE BY MAKING A PLEDGE TO KICKSTARTER