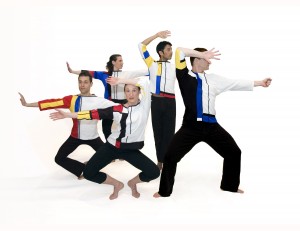 The Sokolow Theatre Dance Ensemble performed in the American Dance Guild 2008 Performance Festival, September 11-14, 2008. Works of 46 choreographers were presented, including Anna Sokolow and Murray Louis. STDE dancers danced the quartet "Adagio Appassionato" from Sokolow's Lyric Suite and Session for Six. The performance was reviewed in the New York Times:
Sokolow's dances were like a balm. …throughout ["Adagio Appassionato"] there is the notion of strength yielding to softness. It is a profoundly pretty dance, but Sokolow's witty juxtaposition of such purity with Alban Berg's atonal music also allows it to be more.
In "Session for Six," …Sokolow shows her playful side. Dancers…create the living image of a 1950s hepcat, albeit with a certain Sokolow grit. Six dancers perform…renditions of popular social dances like the twist, with a marvelous blend of vivacious nonchalance. …"Session for Six" is a rhapsodic display of youth and vitality.
Gia Kourlas
The New York Times, Sept. 16, 2008