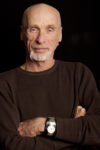 Jim May, Sokolow Theatre/Dance Ensemble's Founding Director, has joined forces with Casual Fifth, a joint project of Sokolow Theatre/Dance alumna Alex Pfister and Mac Evans, in a showcase of solo dance works and taiko ensemble pieces for the Philadelphia Fringe Festival 2020.
Jim has choreographed a suite of solos based on Rodin's sculpture, "The Three Shades." In this showcase, he performs "Passage" (based on the theme of death) to music of Rachmaninoff, and Alex performs "Remember" (based on the theme of the subconscious) to music of Ginistara. Jim plans to choreograph a third solo, based on the theme of sleep.
The showcase is available on Vimeo through October 4. Viewing is free, a donation is suggested.
View the performance:
On Casual Fifth's site (includes program information): https://www.casualfifth.com/fringe2020
On the FringeArts site: https://fringearts.com/event/taiko-and-dance/