I would like to thank you for your generous support of the Sokolow Theatre/Dance Ensemble. Without your donations, the company would not be able to preserve and present Anna's works, and in time, her masterpieces would slowly disappear. Your contributions are fundamental in order for the Sokolow Theatre/Dance Ensemble to maintain this important American modern dance legacy. The Ensemble is working tirelessly to pass Sokolow on to a new generation of dancers and audiences. I hope you will join us at the concerts to share in this exciting process. Last year's season sold out so get your tickets now! 
I wish you all the best, and access to great art!
Samantha Geracht, Artistic Director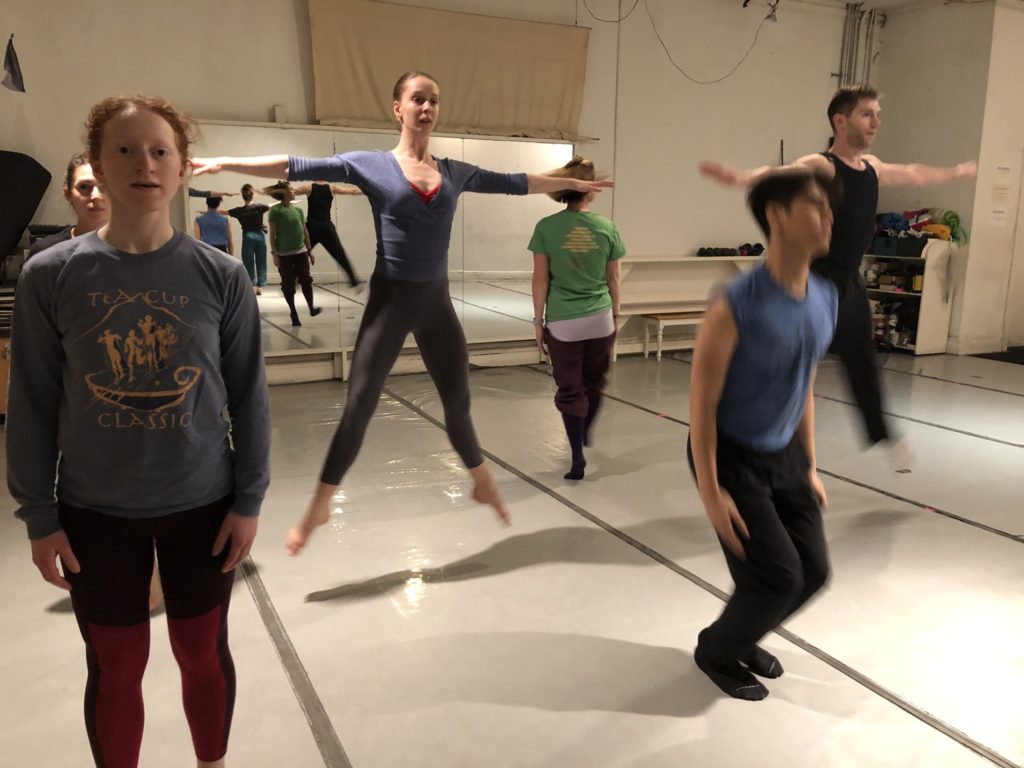 I'm not here to be polite. I'm here to tell the truth."  – Anna Sokolow
After our sold-out season last spring, we will return to the Mark O'Donnell Theater at the Actors Fund Arts Center in Brooklyn on March 21-24 to present "I'm not here to be polite…". The theater and rehearsal space have been rented, costumes are being designed, and our dedicated group of dancers have been in rehearsal since September. We need to raise funds to help pay production costs and dancers' salaries.
We are very excited about the program this year, which is centered on the themes of love and justice. We will be stretching our boundaries with work by the great Valerie Bettis, guest choreographer Robert Cleary, and Sokolow Theatre/Dance Ensemble founder Jim May. And we'll be joined by guest artist Daniel Fetecua Soto.
Three Poems — Based on a tip from a former student of Anna's at Juilliard, Artistic Director Samantha Geracht is reconstructing another long-dormant work of Anna Sokolow's, not seen since the mid-1970s. Three Poems features a mysterious, mythic women's quartet, an ultra-high-energy large group, and a smouldering duet. New costumes will be designed by New York City stylist and fashion designer Epperson.
This is Not America — by guest choreographer Robert Cleary (co-artistic director of Kanopy Dance in Madison, Wisconsin) is a statement about the inequalities in life here in our country, as relevant now as it was when Cleary choreographed it in 2000.
Steps of Silence — Ms. Sokolow's shattering vision of people denied their humanity, trapped and invisible.
The Desperate Heart — Associate Artistic Director Eleanor Bunker will perform Valerie Bettis' compelling 1943 solo, to the poetry of John Malcolm Brining.
Sleeping Bouquet — An intimate portrait of a stormy relationship, choreographed by Jim May and performed by Samantha Geracht and guest artist Daniel Fetecua Soto.
What We Need
What you will see on stage is the culmination of many hours of rehearsal, costume design, lighting and multimedia design, administrative work, and much, much more. With your donation, you are an essential part of preserving and protecting Ms. Sokolow's important body of work.
Our 2019 season will cost about $20,000. We are hoping to raise at least $10,000 on KickStarter but have set a goal of $6,000 specifically to help pay our dancers. Please help us achieve this goal and surpass it. Any and every donation helps. Your donation will support the following expenses:
$5350+    Rent: Rehearsal space, theater, and related expenses
$3500+    Costumes
$3000+    Personnel: Lighting, sound, production, public relations, and more
$6000++  Dancers' salaries
$3000+     …..all the other stuff: insurance, royalties, travel, printing, etc.
As you can see, our Kickstarter goal will cover only a portion of our costs. We need your help to surpass our goal in order to bring this ambitious program into reality.
Other Ways You Can Help
Even if you can't afford to contribute, that doesn't mean you can't help: Share this with your friends and family, and anyone you know who loves the arts. Sign up for our email list to make sure you don't miss our events. Come see the show in March! Volunteer to help during the March week. Follow us on Facebook and @sokolowensemble on Twitter and Instagram.
Thank you for all you do!!
Performances
Thur – Sat, March 21-23 at 8 pm
Sun, March 24 at 3 pm
The Mark O'Donnell Theater at the Actors Fund Arts Center
160 Schermerhorn Street
Brooklyn, NY 11201
By Subway:
A, C or G train to the Hoyt/Schermerhorn station.
F train to Bergen Street or Jay Street/Metro Tech stations
Tickets $30 / $25 Students and Seniors
All donations are tax-deductible to the extent allowed by law. If you donate with your credit card, your credit card receipt will serve as your tax record. If you donate with a check you will receive an acknowledgement letter for tax purposes.
Thank you for your support!