Anna Sokolow went to Mexico in 1939 and began an intimate lifelong relationship that continues today through the Sokolow Theatre Dance Ensemble. Last May, 2008, Jim May, artistic director, and company members Lauren Naslund and Samantha Geracht reconstructed Ms. Sokolow's last work, Frida, at the Northwest Vista College in San Antonio, Texas, which was awarded an NEA American Masterpieces grant for the project. This multimedia work about Frida Kahlo was set on students from the college, who are mostly 1st and 2nd generation Mexican-Americans, as well as dancers from the Central National for the Arts (CNA) dance department in Mexico City who flew to Texas to join the 3 week workshop.
This cross border effort was designed to acquaint students from Texas with their heritage, bring the dance communities together and, most important, teach each group this great work by Anna Sokolow. The dancers from Texas performed the work in San Antonio, then five of them traveled to Mexico to join the Mexican dancers in a performance there.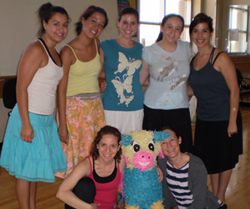 Sokolow Theatre Dance Ensemble endeavors to continue to support our long decades long relationship between these two countries, to create hope of a friendly artistic communication with our neighbors and transcend the political turmoil. And perhaps show that art is the great communicator.