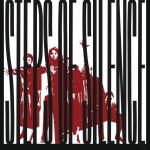 The Sokolow Theatre Dance Ensemble's spring season at the Merce Cunningham Studio in New York was made possible by a grant from the New York State Council on the Arts (NYSCA). The program included Anna Sokolow's haunting Scenes to the Music of Charles Ives (1971) and the devastating Steps of Silence (1969), a study of the human costs of unjust imprisonment.
Also on the program was a new work, Covered Covenant, choreographed by Jim May, and Souffle d'Air by Samantha Géracht, inspired by the mobiles of sculptor Alexander Calder, with an original sonic landscape created by Argentinean composer Cibo Fernandez (www.cibofernandez.com).
This is our second collaboration with Cibo Fernandez. The first was Disguise (2007), choreographed by guest choreographer Anabella Lenzu. We're grateful for his inspiring creative friendship.